Permanent or relocatable cattle yards
Handling cattle with a trouble free, efficient approach is a vital part of quality food, production and animal safety.
To minimise product quality loss and lessen stress on animals, you need to improve the conditions in which they are worked and managed. ECO have cattle yard Designs that work at reducing stress in cattle therefore looking after your product.
Permanent Cattle Yards
ECO construct all yards out of galvanised pipe.
Panels
6 Rails
Height – 1.675mtr (5'6") or 1.830mtr (6')
50 NB (2") galvanised pipe
Gates
6 Rails
40 NB (1½") galvanised pipe
Chain Catches
Slam gate catches in force areas
Overhead Bracing
Specifications
Race – 710mm (2'4")
Calf Race - 410mm (16")
Above widths may be varied
Relocatable Cattle Yards
The relocatable yard panels are made from Oval Rail.

Contact us for details on our range of relocatable cattle yards.
Panels
6 Rails
Height – 1.675mtr (5'6") or 1.830mtr (6')
Standard Length - 2.320mtr (can vary)
Gates
6 Rails
Chain Catch
Slam gate catches in force areas
Overhead Bracing
Specifications
Race – 710mm (2'4")
Calf Race - 410mm (16")
Above widths may be varied

Cattle Yard Accessories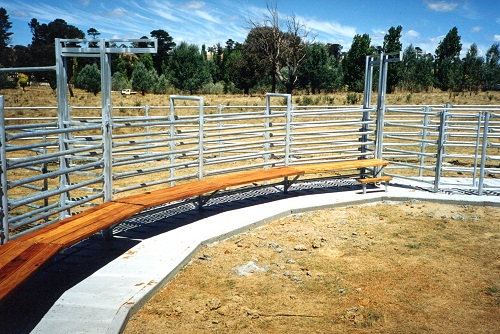 Concrete cattle race
Raised walkway on side of cattle race
Roof
over cattle race and main working area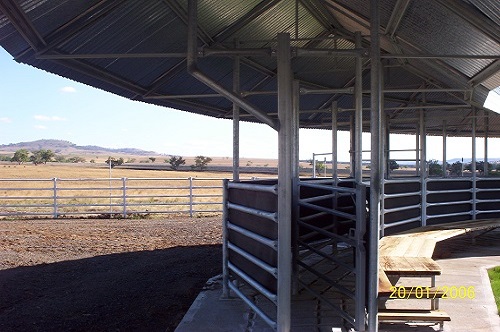 Conveyor belt
To cattle race
Calf race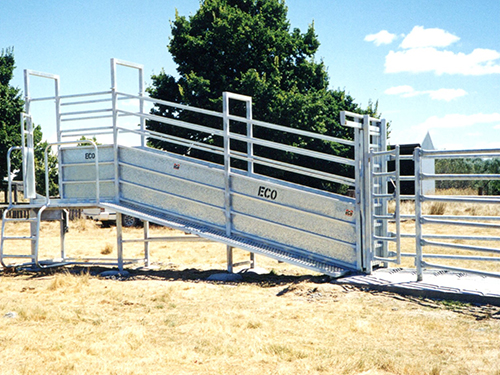 Loading ramps
4 mtr Standard
Optional adjustable walkway & platform
Timber or Concrete floor
Dump Ramp